Complexity made easy
Key features:
Easy to use: single tube multiplex PCR.
Ready for diagnostics: CE IVD marked. Validated for the qualitative and quantitative evaluation of SNVs, indels and CNVs for both somatic and germline analysis.
Minimum quantity of DNA needed: 10-25 ng of DNA per sample.
Quality inside: Positive control with orthogonally validated genotype (Horizon Discovery) included in the kit.
Data analysis: dedicated software and workstation for automated data analysis.
The kit includes all the necessary reagents for:
qualitative and quantitative evaluation of the input DNA by qPCR (for somatic analysis);
multiplex PCR for library preparation;
enrichment of the library through PCR.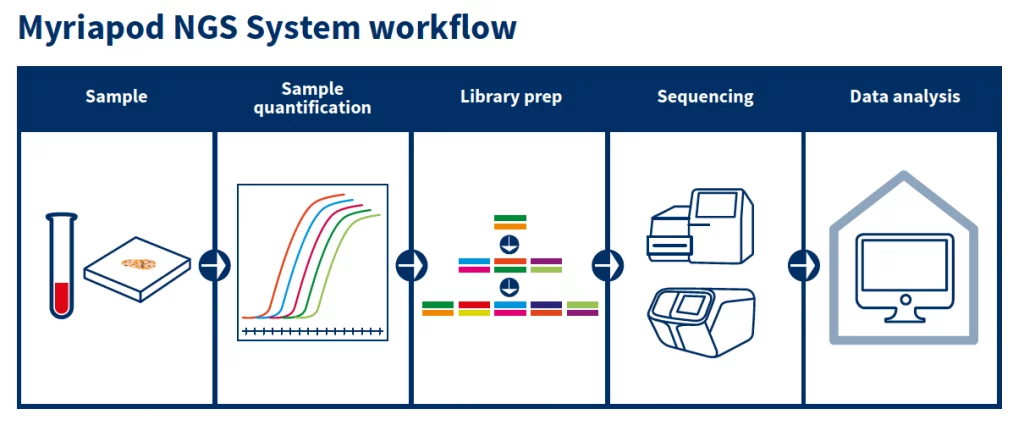 Myriapod® NGS Data Analysis workstation and software: from NGS raw data to clinical results
The Diatech data analysis solution is made of an easy-to-use CE IVD software running on a bespoke workstation. The software allows local analysis of raw sequencing data and the calling of SNVs, indels and CNVs. Myriapod NGS data Analysis Key features:
Dedicated and complete solution for local data analysis: Myriapod NGS Analysis software and the dedicated Myriapod NGS workstation are an end-to-end solution for local analysis.
Flexibility: same data analysis solution for both Illumina® and Thermo Fisher Scientific® platforms.
"Variants database" dedicated to each application The software stores all the variants detected by each application; the user can re-classify any variant for internal use.
Monitor progress Once the analysis has started, the user can monitor its progress in an easy way.
Categorized results Variants are automatically binned into categories based on quality and realiability of the call.
Integrated IGV data visualizer All data can be viewed with the integrated IGV viewer, allowing to visually inspect the coverage of the interested regions. Report The software allows to select sequencing metrics and results and print them in a PDF file report or export them in .csv format.
Outsourcing of data and sample analysis do not eliminate the legal responsibility of the laboratory in the processing of personal data, even if protected by complex contracts subscribed with the service provider and even if the last one is certified according to a standard for "Information Security Management" (eg. ISO 27001).
Learn more by downloading the flyer
Enter your information below to download the brochures
Validated tools
Ion PGM system Thermo Fisher®
Ion S5 system Thermo Fisher®