Partnership
Leader in the development, production and
commercialisation of pharmacogenetics tests
for cancer precision medicine.

About Agena Bioscience
Agena Bioscience is dedicated to advancing the impact of genomics in healthcare and precision medicine. Our highly sensitive and cost-effective mass spectrometry-based platform, the MassARRAY® System, is used globally in diverse fields such as cancer profiling for solid tumors and liquid biopsies, inherited genetic disease testing, pharmacogenetics, agricultural genomics, and clinical research.
The mission is to equip genomic and clinical testing laboratories with practical solutions that increase productivity and decrease time to results. Whether assessing sample quality, screening samples for actionable mutations, or enabling routine genetic testing for tens to thousands of samples, our products and services help laboratories translate genomic discoveries into mainstream clinical practice.

About Eurogentec
Eurogentec is an international biotechnology supplier, based in Belgium, that specializes in genomics and proteomics kits and reagents as well as cGMP biologics. The company was founded in 1985 as a spin-off from the University of Liège.
Eurogentec has developed three interrelated business units, Life Science Research Products and Services, In Vitro Diagnostics Manufacturing Solutions, and GMP BioManufacturing.
The life science business unit specializes in genomics, and involves the development of oligonucleotides, DNA polymerases, Real-time qPCR Probes, assay services, and proteomics. The proteomics operations are primarily concerned with custom peptides and antibodies, assay kits and Proprietary Dyes & Quenchers.
The in vitro diagnostics business unit provides technical and project support for contract manufacturing of good manufacturing practice (GMP) Oligonucleotides and Taq DNA polymerases for use in Molecular Diagnostic applications. Manufacturing processes take place in clean rooms.
The GMP BioManufacturing BU is a full-service Contract Manufacturing Organization (CMO) and offers significant know-how in process development, technology transfer, formulation, scale-up and manufacturing of GMP proteins, protein conjugates, plasmids and bacterial vaccines for pre-clinical, clinical and commercial uses, all according to U.S. Food and Drug Administration (FDA) and EMA requirements.

About SensoQuest
SensoQuest GmbH was founded in 2005. The company is privately financed. The team of physicists, engineers and biologists has more than 20 years experience in the thermocycler market. The LabcyclerTM Basic and Gradient with the Thermoblocks 48, 96, and 384 were launched in 2005, followed by the smallest Triple Block system in 2008. The LabcyclerTM 48 was launched in 2010. This small system is optimal for personal use and has 4 versions with aluminium and silver blocks. All Thermocyclers were produced in Goettingen. Service is as well in Germany.
Since 15 years, the SensoQuest GmbH has produced high-quality thermal cyclers with the brand LabcyclerTM for industry and public research institutes. The company is focused on the gold-plated silver blocks. Silver has thermal conductivity of 427 W/mK, much better than aluminum (237 W/mK). Low power consumption, low noise, fast heating and cooling rates during real operations and the cycling, as well as a cool down under the freezing point demonstrates the performance of the LabcyclerTM. All this resulted in a long lifetime. A self-calibration system completes the LabcyclerTM product line.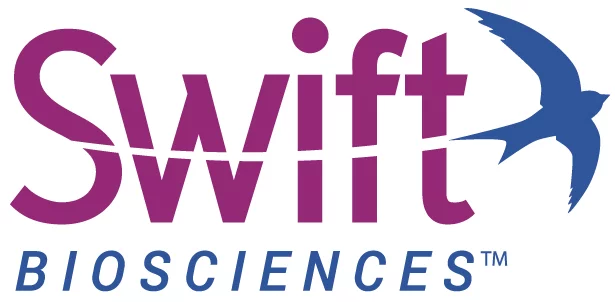 About Swift Bioscience
Swift Biosciences develops enabling technologies for genomics, translational, and clinical research applications. The technologies push the limits and extend the applications of next-generation sequencing (NGS) and polymerase chain reaction (PCR). We have developed unique intellectual property (IP) in the fields of ligation, amplification, purification, and DNA repair.
Using our IP technology, Swift has developed DNA sequencing library kits for use with double-stranded DNA, single-stranded DNA, and bisulfite-converted DNA. These kits enable the construction of libraries from difficult-to-use and preciously limiting samples, such as FFPE and cfDNA. Our technology is platform agnostic and applicable across the three major NGS platforms: Illumina, Ion Torrent, and Pacific Biosciences. We have developed unique methods that allow the construction of targeted DNA sequencing libraries in a single tube, from minute amounts of DNA in less than 2 hours. The amplification technology enables the design of overlapping amplicons and offers full gene coverage. The amplification technology has been developed for use with fragmented DNA isolated from samples, such as FFPE and cfDNA.