NGS and Real-Time PCR are both needed in each lab to assure the maximum performance for clinical oncology routine. NGS means the maximum volume of information in one single assay for sample, but Real-Time PCR is the fastest and sensible method to manage critical and urgent samples.
EasyPGX is the first CE IVD  single instrumental system with a broad menu of both NGS and Real –Time applications fully dedicated to molecular Oncology.
Thanks to the innovative "dry" and ready-to-use reagent format, EasyPGX represents the simplest and fastest solution on the market for both NGS and Real-Time PCR assays from sample to result.
Find out more by watching the complete system video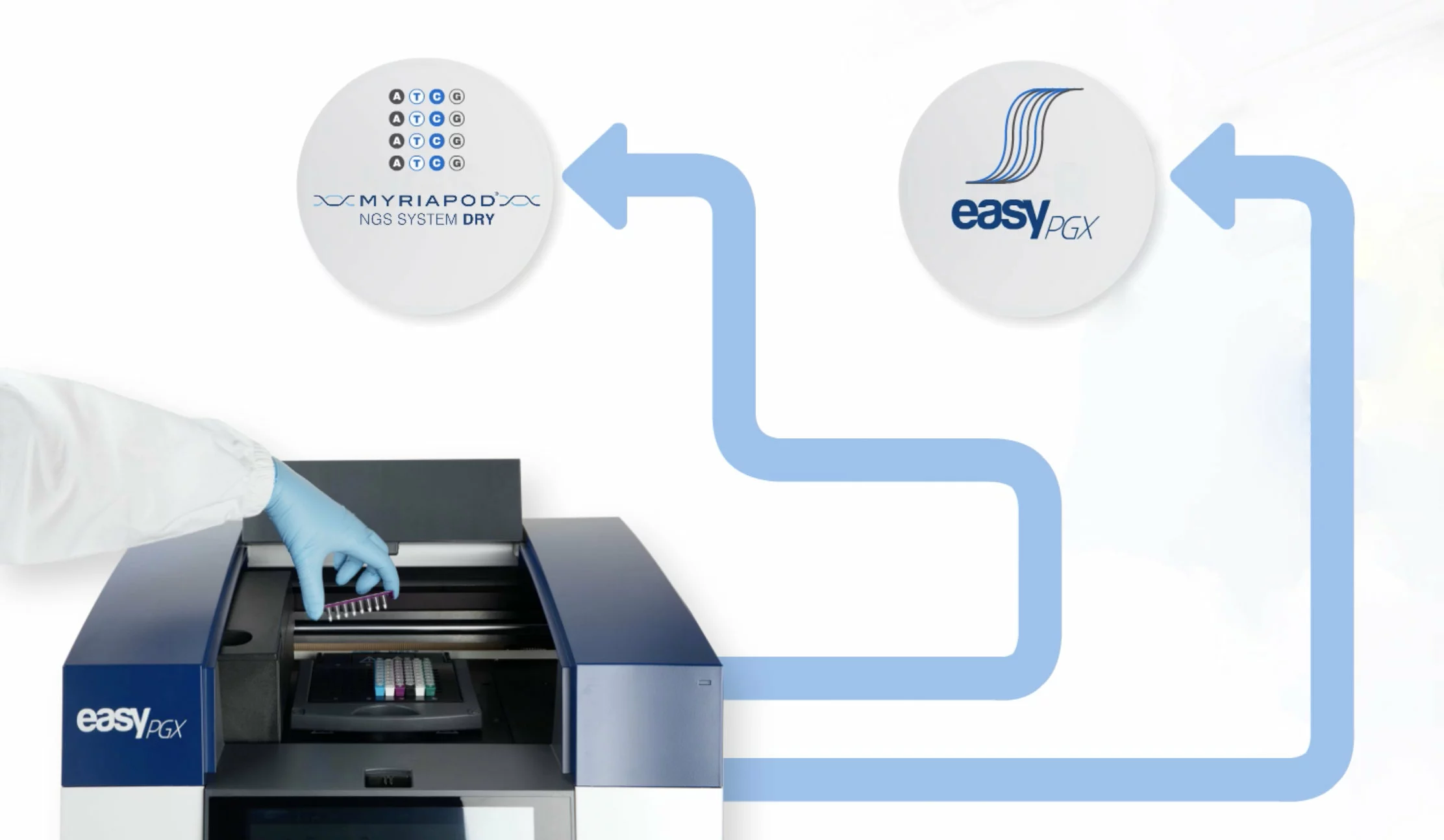 Myriapod® NGS Cancer Panel DNA- The NGS solution for clinical oncology assays:
From sample to sequencing in 8 hours.
Hands-on time < 2 hours.
From 2 to 46 samples per session.
Dry, ready-to-use, in pre-aliquoted strip reagent format.
Data processing with Myriapod® NGS Data Analysis Software, fully automatic, local and without the need to send out data using the cloud or other "online" solutions.
Colon, melanoma, lung, central nervous system, GIST and thyroid; 16 genes in a single panel.
CE IVD from sample-to-result validated on FFPE and cfDNA clinical samples.
EasyPGX® the qPCR solution in oncology
Ready to use: reagents are delivered in 8-well strips preloaded with a complete master mix in a dry, room temperature and stable format.
Easy to use: no need for freezing, thawing, or pipetting on ice and the few remaining pipetting steps minimize the risk of errors or contaminations.
High sensitivity: limit of detection as low as 0.5%.
Flexible sample requirement: low DNA input from a variety of sources, including FFPE and plasma.
Turnaround time: from tissue to result in less than 3 hours with only 10 minutes of hands-on time.
Complete set up: evaluate more than one gene on the same run, with 16 dedicated kits.
CE IVD manufactured under ISO 13485.